Rainbow Killers & Bondage Bunny Studios: Interview with Comic Artist Shannon LeClerc
Founder of Bondage Bunny Studios, animator, writer, and comic illustrator Shannon LeClerc has recently weaved together LGBT themes with "70's style exploitation, gore, and smut"  with comic series Rainbow Killers. That is more then enough to make us swoon but Shannon has even more up her sleeve.  We thank Shannon for taking the time to chat with us and tell us all about it.
Hannah Neurotica: You have worked with many different creative mediums. Does one come more naturally to you then others? Do you enjoy one form over another?
Shannon LeClerc: Pretty much anything that involves working with a narration I tend to love doing. When I was in film school, I enjoyed the process of making my characters come to life with Animation. After graduation and working on some freelance jobs, I was bored by it, working on the same clip over and over again, often for little or no pay, trying to compete with other graduates for the lowest bidding. It became really discouraging.
Then I became a member of Cloudscape Comics, a society of comic artists and illustrators and found myself getting back into sequential art and working with narration. This also changed my specialty from animator to storyboard artist.
I love doing animation when its my own script and characters and will animate again for my own film projects, however creating comic books has been something I have been really enjoying for it encompasses three disciplines: Narration, Illustration and Graphic Design.
Hannah: You mentioned that you enjoy working on comic books because it incorporates three mediums: narration, illustration, and graphic design.  this got me wondering about your creative process. do you tend to notice a pattern in the order you develop a comic? for example do you usually come up with the narrative first or do you tend to see images and base the narration/story structure off the visuals?
Shannon: Usually when I come up with a concept, the visuals often come first (often its the climatic scene or a plot twist, a joke or even the perfect panel) and then I write the script based upon it. If it's not a visual cue then usually an idea comes up when thinking about a topic.
Most of my creative education came from watching film and animation so a lot of the same processes (script, storyboarding, editing, etc.) often overlaps with comic books -hence why you often see many artists working in multiple industries. Except for minor differences, many visual mediums have similar skill sets.
Hannah: Are there any creative mediums you haven't experimented with yet but would like to?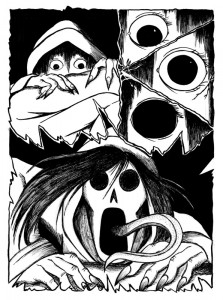 Shannon: I have been watching Lee Hardcastle (T is for Toilet) Takena Nagao (Chainsaw Maid) and other animators on Youtube and I have been craving to experiment with stop-motion. I had been watching Jan Svankmajer recently and in awe of his work and the influence he's had on animators like Terry Gilliam, who in turn his paper cut-out animation influenced animators like Trey Parker and Matt Stone.
Animating by illustration is already a tedious task, I have a lot of respect for those who create Stop-Motion by painstakingly moving small pieces of items, taking a shot and doing it over again, while keeping in mind multiple characters, objects, and background animation!
Hannah: When did you discover your love of horror films? Was it since a very young age or something you embraced later in life?
Shannon: Horror films didn't really come into my life until I was in my early to mid teens but prior to that I was reading Sherlock Holmes, Alfred Hitchcock anthologies and eventually got into my mother's collection of Stephen King books. Kind of funny considering I was such an anxious and shy kid that other children liked to scare me, and then I would get absorbed into these creepy fantasy stories.
Eventually this lead up to watching Horror films as a teenager and I start to appreciate the work that goes into making it. From Horror to Disney films, if a DVD has a behind the scenes look at production, I always watch it.
Hannah: Speaking of getting into your mother's collection of Stephen King- that was also where got Jen and Sylvia Soska got their first exposure to horror as well. You are located in Vancouver as well I believe you have done some graphic work for the twins?
Shannon: I started talking with Jen and Sylvia after I had sent them a sketch I made of their characters from Dead Hooker in a Trunk, from there I have made artwork as gifts. When they were doing the "Monday Sucks" radio show and presenting films at the Rio Theatre, I had made a couple of logos for them to use. Although they have never officially been used and their side projects had been put on hold- I was pretty pleased with the end result, since these graphics were an excuse to practice with Adobe Illustrator.
Hannah: For those new to your work can you talk about the different themes you explore?
Shannon: Much of the themes I tend to explore in my horror stories are psychology, (mental illness, mental health stigma) sociology (homophobia, sexism, xenophobia) and mythology and how often these things intersect with each other. Myths were created to explain the fears and anxieties of people in that time- Horror stories is an extension of fairy tales and folklore.
And often times these myths were used to promote a moral message but when you read closer into these stories you also find some disturbing ideas promoted by society. The themes that I incorporate into my work are those that use Horror and Exploitation to examine the ills of society, instead of using it to confirm people's fears.
Hannah: What project are you working on right now?
Shannon: Primarily I am creating two projects for the "Bondage Bunny Studio" imprint. One is a comic series called Rainbow Killers, described as a "supernatural sexploitation comedy" written by myself and my friend Shawn Tomac. Rainbow Killers is a parody of the Urban Fantasy and Supernatural detective genres by crossing it with a Buddy cop comedy, 70's exploitation and 80's action films. In short, I wanted to create a LGBT action/comedy comic with blood, gore and smut!
The second project is Wanton Soup, a short-form horror webcomic. The idea behind it is that all stories are 4 pages long (with exception of wrap-around story) as a way to keep narrative condensed, easy for audience to jump into and helps myself as author stay focused on the project by making these limitations.
Hannah: Where can people go to find your work and show support?
Shannon: Everyone can check out my work at http://www.bbunnystudios.com. They can also follow me on Twitter, Facebook and Instagram.
I am currently writing for The Horror Honeys as their Comic/Graphic novel guru, working on two comic series to debut in 2015 and I will be making convention appearances throughout the year to promote my work.