The Edgar Allan Poe Bronze Bust Project: An Interview with Filmmaker & Producer Izzy Lee

Horror filmmaker and producer Izzy Lee is currently spearheading The Edgar Allan Poe Bronze Bust Project followed by the One-Man-Show Nevermore: An Evening with Edgar Allan Poe starring Jeffrey Combs. Read all about this wonderful initiative, learn how you can help/support and be part of history. Guillermo Del Toro, Neil Gaiman and many other wonderful folks have already hopped on board. We hope you will join along side them as the Kickstarter campaign gets close to the finish line.
Hannah Neurotica:  What brought you to bring the Edgar Allan Poe Bronze Bust project to life? And can you explain the significance behind housing it in the Boston Public Library?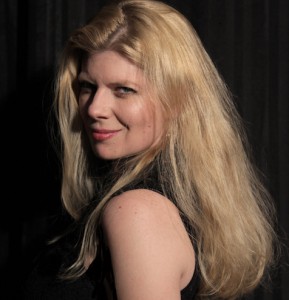 Izzy Lee: My friend Bryan Moore, who sculpted the HP Lovecraft bust for the Providence Athenaeum came and asked if I would partner with him on the Poe project. He proposed a Devil's Night unveiling in Boston, where I live. It was an immediate YES. IT'S POE!! Reading his works in junior high through college helped me through some rough times. This is a unique opportunity to bring him home, in a sense. While he lived in New York, Virginia, and Baltimore, he was born in Boston. During his life, he had a cantankerous relationship with the city and its denizens, but now Boston has finally warmed up to him.
Hannah:   You are producing the one-man-show Nevermore: An Evening With Edgar Allan Poe starring Jeffrey Combs (Of Re-Animator fame).  How did you come to be involved with this production and how does it all tie in with the Bronze Bust Project?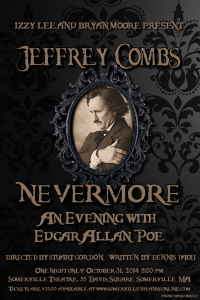 Izzy: "Nevermore: An Evening With Edgar Allan Poe" is a show I've wanted to bring to Boston since I saw it in Montreal at Fantasia in 2010. I was fortunate enough to have been invited to a private party after the play where I was able to meet Jeffrey Combs, Dennis Paoli, and Stuart Gordon, and it was fun. But most of all, Jeff's performance is astonishing. Anyone who's seen Stuart's adaptation of "The Black Cat" for the "Masters of Horror" series knows how good Jeff is as Poe. But to see him live—acting out Stuart's direction and Dennis' words—he is simply fucking amazing. We were entranced; the whole audience was. The timing and funding hasn't been right until now—AND it just so happens that Bryan knows them, so the three musketeers of horror were easy to contact. We planned on doing the show and creating the bust project at about the same time, but details for the show took awhile to nail down.
The play will premiere in here in New England at 8pm on Friday, October 31, 2014 at the Somerville Theatre, which is a gorgeous place. Wonderful acoustics, lush gold curtains, a gigantic balcony, and a terrific lobby that sells craft beer, wine, fresh popcorn, and even ice cream. Tickets have been selling extremely well, so anyone who wants a kick-ass Halloween should buy them sooner than later.
Hannah: You have a Kickstarter campaign running right now for this event and the making of the bronze bust. How would you explain why something like this is important/significant/worth the investment to those who are used to campaigns for a film production for example.  Also, I have to say the perks are also Poe-tastic. Can you give our readers a little sample of some of the great perks?
Izzy:  Of course. We have jewelry, pocket watches, signed books, "The Black Cat" DVDs (autographed by Stuart Gordon), awesome tote bags, posters with art by the incredible illustrator Graham Humphreys, magazine subscriptions, and so much more. You can even donate money to get your name on the plaque that will go with the bust and be displayed at the Boston Public Library for all time. There will also be a special dinner to attend with myself, Bryan, Jeffrey Combs, and possibly Stuart Gordon—directly following the unveiling. People can watch the video and read up about all the reward levels here.
Hannah: Speaking of the crowd funding campaign how has it been going? You've got support not long ago from the insanely wonderful & brilliant Guillermo Del Toro. How did your paths cross? 
Izzy: Guillermo is a wonderful soul; he helped fund Bryan's last bust, the HP Lovecraft bust in the Providence Athenaeum. We asked him if he would like to add a Poe replica bust to make a pair with his Lovecraft replica, and he said yes! True to his word, he pledged and will now get the only replica in the world. The best part is that we get to hand deliver it and see the joy in his face when he sees it for the first time!
The crowd funding has been good; we are 75% funded, but we seem to have hit a stagnant spot. We've got TWO WEEK left to raise $7,000. We need your help to get us—and Poe—to the BPL!
Hannah: How do people get tickets/show support?
Izzy: The bust unveiling is free and open to the public. It will be held in the Boston Public Library in the Abbey Room of the McKim building on Thursday, October 30, 2014 at 6pm. We would love to get press there to cover the event when it happens, as well as promote coverage now so we can get as many eyes on the Kickstarter in order to make the Poe sculpture happen. Re-posting the link and sharing with likeminded Poe fans is a terrific way to help, too.
You can find us at–>  https://www.facebook.com/EdgarAllanPoeBronzeBustProject
On Twitter–> https://twitter.com/PoeBronzeBust
For those who would like to go to "Nevermore," tickets, again, can be purchased here.
Hannah: When not producing events you are also a fantastic filmmaker. Are you currently working on a film or are you to tied up with the Poe project for now? We would love a little window into what you have going on behind the camera, any screenings, and how people can check out your work.
Izzy: I'm doing a ton of work on the Poe project, but I'm also working on other things. I can't talk about some the films I'm working on right now, but that's good news, because it means I may be involved in something cool. I am in post on a horror comedy short that was written by my good friend Chris Hallock. It's great because it's my first film with real FX and stunts, and I'm very excited about that. I may have something playing at Fantasia in July as well. 😉
Website–>www.nihilnoctem.com
On Facebook–> https://www.facebook.com/nihilnoctemfilm
On Twitter–> @nihilnoctemfilm