Women in Horror Month Australia
Details:
Friday, February 21, 2014 / 7pm / Bar 291 Albert Street Brunswick, Melbourne Victoria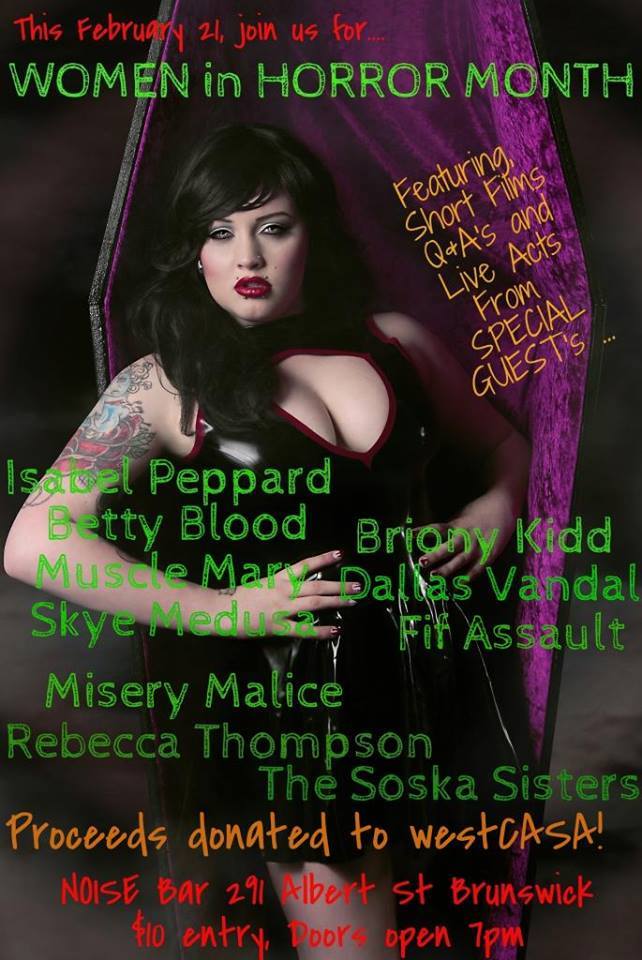 Description From The Organizers:
This Feb 2014, we are holding a fundraising gig which would include special guests, live acts and short film screenings.
With funds raised, we wish to donate to a charity that deals with domestic violence and sexual assault against women, WESTcasa.
All the while, promoting women's involvement in the genre of horror and exploitation through this controversial, yet artistic platform.
Special guests include…
ISABEL PEPPARD Butterflies – a stop motion animation
BRIONY KIDD & REBECCA THOMSON – Stranger With My Face Horror Film Festival.
The eternally gore-jus Horror pin up/actress Skye Medusa
Miserys Malice of TRASHARAMA and Miserymalice's Shooting Spree (who has also been kind enough to donate prints featuring a brand new photography concept that relates directly to our cause.)
The lovely Fif Assault / Fifi La Roux will be our host with the most, rocking the MC and keeping us on out toes!
Trashing the perception of perfection with garters, beer and cherry red lipstick BURLESQUE PERFORMER, Dallas Vandal will be just one of the awesome acts in between SCREAMings!!
We are also oh so lucky to have Melbourne Gorelesque's own and Australian Burlesque darling, Betty Blood!!!
Films screening on the night include…
Isabel Peppard's multi-award winning short Butterflies.
Rebecca Thomson's darkly comic short film CUPCAKE – A Zombie Lesbian Musical
Along with Ursula Dabrowsky's INNER DEMON promo we are fortunate enough to be screening some incredible shorts from the Stranger With My Face Film Festival.
We are also highly anticipating a very special P.S.A. announcement as well as a personal message to be screened to everyone on the night from the Twisted Twins themselves, The Soska Sisters! tWIStED tWINS PRODUCtIONS
As all good things must come to an end, we decided ours should go out with a BANG! So, we invited everyone's favorite 3 piece trash-sleaze rock act Muscle Mary to close for us!
SPECIAL ANNOUNCEMENT OF SECOND SHOW!!
The lovely and talented Melbourne based lads, Clint Cure and Adrian Goodman have joined forces to produce a mega male filmmaker advocacy sideshow on Feb 13th!!
You can check out this event here ….
https://www.facebook.com/events/561931387237189/?fref=ts